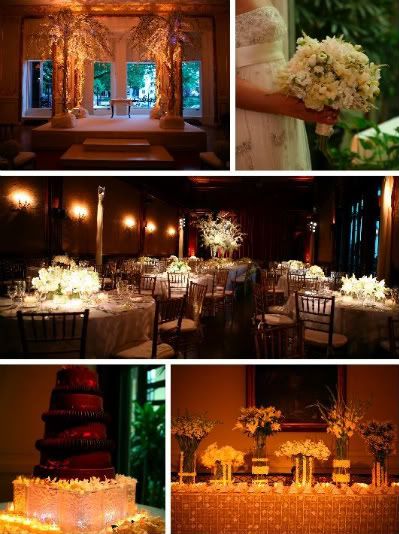 It certainly was a romantic and amazing wedding for Elizabeth and Kevin on Saturday evening at historic The Engineer's Club. It would be hard to choose our very favorite thing about this wedding because there were so many special touches throughout. Elizabeth's gorgeous Reem Acra wedding dress certainly would be one of our favorite things. The dress was perfect for her, perfect for the event, perfect for the summer, just perfect. The all white flowers by the always incredible Victoria Claussen of Romance of Flowers were another favorite thing. The Engineer's Club glowed with the soft light from the candles and the white flowers. Did you see that chuppah? How amazing is that?

The bride's mom spent a lot of time on certain things for the wedding that really made an impact. She carefully selected all the linens for the wedding from Table Toppers and the look was fabulous. She also designed and made the cute favor boxes filled with a flower bulb and went all over town looking for just the right vellum envelope for the very cool menu card.

Once again some of our favorite vendors like Jeff Thompson from Premier Deejays, Bobby Dill from lighting company Event Dynamics, Steve Canning from Steve Canning Photography, and Bob Bollhorst from Courtesy Parking really stepped up and did a wonderful job to contribute to the success of this wedding.

The wedding cake from Patisserie Poupon smelled and tasted as good as it looked. The wedding guests loved the chocolate cake.

Once again the friendly staff and chefs at The Engineer's Society of Baltimore did a wonderful job in making sure the guests were happy and the food delicious.

Congratulations Elizabeth and Kevin!