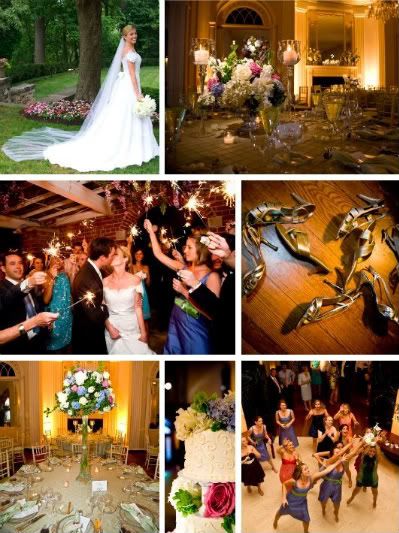 One of our favorite clients got married last Saturday and it will be hard to say goodbye to talking with them every week. Allison and Jeffrey's wedding was beautiful and chic and we heard the word "perfect" quite a bit throughout the evening.
The planning process is always easier and much more enjoyable when we have such great clients like Allison and her mom. They had a wonderful vision for the wedding and then thoughtfully considered all the options we presented and made decisions based on our recommendations and their good taste.
The decor was gorgeous with flowers by Simply Beautiful Flowers and lighting by Mike Blondell of Accents on Events. The rental crystal and china was selected with care from Party Rental, Ltd and they provided the celery green pintuck linens and cream chivari chairs as well.
If you have never eaten at The Baltimore Country Club, you are missing out on a wonderful dining experience. The food at BCC is always amazing and beautifully presented. The staff is kind and always accommodating. We love, love doing events at BCC and working with Carmen.
It didn't take long for the party to get started after dinner as the band Escapade kept the dance floor packed all night. For those who needed a break from dancing, a staff from Cold Stone Creamery was on hand to custom make their favorite ice cream sundae.
We normally don't taste the wedding cake every week anymore after all these years, but Saturday was an exception. It just looked so darn good that we took a piece home and had a (way past) midnight snack. Wow. Sugar Bakers once again produced a winner of yellow cake with coconut cream filling. It was delicious (and beautiful)!
Many thanks to Joanna at The Limo Lady for once again providing flawless limousine transportation to our VIPs and to the bride and groom at the end of the evening. Ally and Jeff were (hopefully!) surprised when they arrived at their hotel room which little elves had decorated during the reception. A heart of rose petals on the bed, snacks and drinks at the ready, and a honeymoon tote bag filled with magazines, eye pillows and travel candles were waiting for them in their room. Oh and we should mention the best part: custom made pillow cases on their pillows with the new married names. So cute...
All the images above are from fabulous wedding photographer Arthur Remanjon.
Congratulations Allison and Jeffrey!