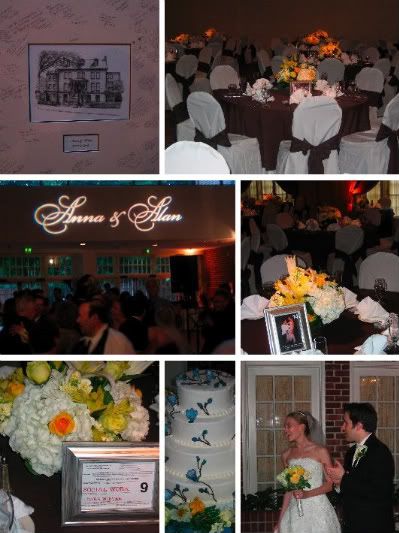 Anna and Alan were married on Saturday in a ceremony that combined their Catholic and Jewish faiths. The ceremony was held at St. Andrew by the Bay Catholic Church in Annapolis, which was recently refurbished and just beautiful. Father John led the ceremony with a final blessing from David Katz of Son of David Congregation.

The reception, held at the Governor Calvert House, was beautiful.  Anna and Alan designed the wedding around the colors chocolate brown and cornflower blue.  The chocolate linens were accented by yellow and white flowers.  One of the highlights of the reception was the custom "Anna and Alan" gobo light projected onto the wall by Perkins Productions.
Anna, Alan, and Anna's Mother Pat put a lot of time and hard work into making the wedding a personal experience.  Each guest table was named after a show that Anna and Alan were in together and each table number featured a photo of the Bride and Groom in that show.  Gathering those pictures was a task unto itself.  The couple even spent time to personalize the bar menu.  They featured three drinks that highlighted their honeymoon plans.  The Arc de Triomphe, Peter Island Sunrise, and the Virgin Gorda were all enjoyed throughout the evening.
The guest book was a drawing of the Governor Calvert House with a matte that guests signed and share their well wishes.  It will certainly be a treasured piece of art in the newlyweds home forever.
Anna's Father, Bert, surprised everyone during his welcome speech.  He formally invited all of the guests into the "Anna and Alan Fan Club" while servers passed out pin on buttons for guests to wear to future shows.  The buttons were a huge hit!
Since music is a huge part of Anna and Alan's lives they had planned the music selections down to the note.  Each song they chose had great meaning and were preformed perfectly by NightSong.
Congratulations Anna and Alan!  Enjoy the Caribbean and Paris!