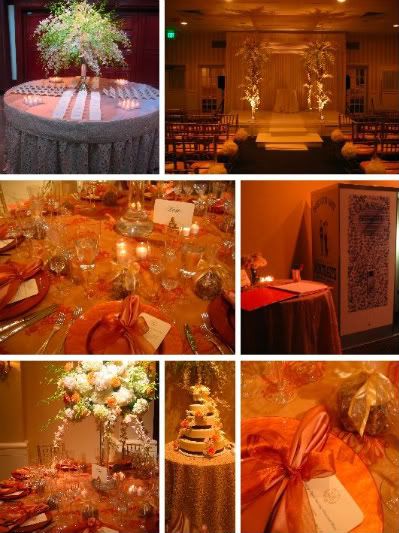 Ahhhh, young love.
The wedding of Brian and Erica yesterday was a perfect combination of décor elegance, romance, and a whole lot of fun. With such a great group of young people in attendance, the party got off to a quick start with a packed dance floor and ended with sparkers (of course) for this holiday weekend wedding.
We certainly had a wonderful time planning the wedding with the bride's dad and step-mom who were gracious, generous, and grateful from start to finish. We incorporated tones of copper, gold, peach, and cream to create a dazzling table setting. The copper chargers perfectly accented the custom linens and were topped with chocolate toffee apple favors from Lisa Anne's Apples.
The bar at Chestnut Ridge was packed all evening thanks to Erica's favorite Chocolate Martini and Brian's favorite White Russian. Not to mention the lines that formed at the tables for Cold Stone Creamery and the fun photo booth provided by Photo Illusion.
Chestnut Ridge Country Club was absolutely gorgeous thanks to the step-mom's great design style and vendors like Table Toppers (custom linens), Perkins Productions (lighting, draping, and staging), Party Rental (china, crystal, flatware, chairs) and Myland Farms (all the floral décor including the chuppah).
The staff at Chestnut Ridge could not have possibly been more helpful, caring, or hard working. They were like a well-oiled machine making sure that every detail throughout the evening was perfect.
As always, Jim Skipper of Black Tie Video and Joe Sachs of Artful Weddings photographed and documented the entire wedding day with a professional and cheerful manner.
We worked with Gunther Motor Coach for the first time this weekend and they were terrific. We just love finding new, reliable and kind vendors. Sugar Bakers once again produced a delicious and beautiful wedding cake and Concord Ensemble provided a wonderful string quartet for the ceremony.
Congratulations Erica and Brian.
You are both very sweet and we wish you all the best.